The first sensory swing, or round swing as it is also called, appeared in 2001 and has since been produced by several different companies.
On this page we have collected many good ideas for the best sensory swing for both indoor and outdoor use.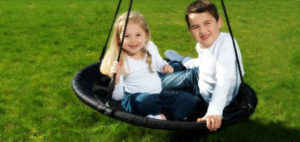 A sensory swing develops motor skills
The great thing about a sensory swing is that it can both swing and spin, and children can either lie or sit on it. The many movements stimulate the child's sense of maze in particular. The sense of maze is the baby's awareness of the movements of the head. It is stimulated when the baby swings or is rocked on the sensory swing.
Use the sensory swing from newborn upwards
Your baby can enjoy his sensory swing from day 1. Use the swing as an extra place to lay baby and watch how he or she calms down from the rocking movements. For example, you can hang the swing in the living room at first, and later hang it in the garden to play with. Most swings can be used both indoors and outdoors. See suggestions for the best swing below.
The swing can be used by more than one child
Children love to play together, and unlike a normal swing, the sensory swing can be used by several children at once. The Krea sensory swing can support up to 100 kg, so there's plenty of opportunity to swing with friends.
Krea sensory swing
The swing measures 100 cm. diameter, and is of course safety approved.
Maximum load: 100 kg.
Sensory swing from Krea is one of the most popular sensory swings. The base is covered with a durable fabric that is easy to wash and also ensures that little fingers cannot get caught. It can be used both as an indoor swing and an outdoor swing.
Indoor swing
An indoor swing has slightly longer cords, so it fits the ceiling height of 2, 40 cm. in most Danish homes.
This sensory swing is the first original sensory swing, and is therefore 100% safety approved for play in homes and institutions. The swing can withstand a load of up to 200 kg, which is important when several children use the swing at the same time.
The sensory swing is fitted with only one hook, which means it can turn, spin and swing back and forth. It has a carousel function, which effectively stimulates and develops the child's sense of balance.
100 % safety approved
Maximum load: 200 kg
Carousel function
If you like colours, you can also buy the indoor swing in red or yellow. See them here. 
Make your pillow extra comfortable with a matching pillow.
Outdoor swing
If you have the opportunity to hang the sensory swing in the garden, it will certainly spread a lot of joy. An outdoor swing allows you to get plenty of fresh air while playing on the swing.
It can also be a great way to include little brother or sister in outdoor play, as they can use the sensory swing at any age.
On an outdoor swing, the cords are 50 cm shorter than on an indoor swing, so the swing can be hung from a tree or similar without hitting the ground.
The sensory swing blends naturally into the landscape with its round shape. Even adults will be tempted to enjoy the tranquillity of the swing under the tree. Price: 699 kr.
The best sensory swing - max load
of 500 kg
If you're looking for the best sensory swing that will last for years, this is a good choice. It can withstand a load of 500 kg and can be used by several children all day long.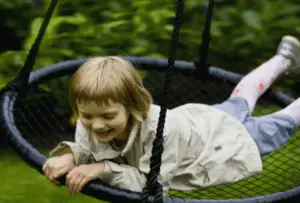 The sensory swing is made of strong quality and can be used in both institutions and at home.
The safety of this swing is top-notch and it is approved by the Technological Institute. The swing is 97 cm in diameter and has a snorkel length of 175 cm. If you want a different cord length, please contact Sansegynge.dk and find a solution.
The price of DKK 2,799 is higher than many other sensory swings, but here you also get a swing that can really last for many years.
Accessories for round swings
The first sensory swing appeared in 2001, and since then they have become increasingly popular. Therefore, today you can choose between many different types of sensory swings, as well as accessories for them. Especially if you choose to buy an indoor swing, you will be pleased with the accessories.
Cushion for sensory swing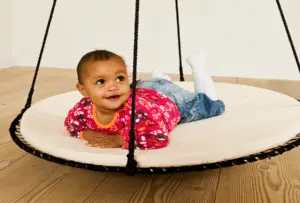 A lovely round cushion for a sensory swing (see here). The cushion increases comfort and makes it pleasant for even the smallest to lie and enjoy themselves on the swing. The cushion is available in several colours and costs 555 DKK.
The cushion has several uses, and does not only have to be used on the sensory swing. Place the cushion on the floor and make yourself comfortable with pillows and duvets - your very own reading nook. The cushion can create a little oasis in your home.
The cushion is made of quality cotton, with good durability. The swing cushion has a foam filling that is both firm and soft and holds its shape even after years of play and fun. The cover can be easily removed and washed.
Edge for sensory play - so baby can't fall
All babies reach an age when they start to trill. And then they trill all the time. At that age, it can be hard to lie on the round swing because baby can fall down and hit himself. A good solution to this is to have an edge on the sensory swing. It is now possible to buy both a safety and an edge for the swing, which makes it more comfortable and safer.
However, you still need to supervise your baby on the swing, as the edge can bend down. The edge of the swing costs 495 DKK. You can also buy the edge and cushion together for a total of DKK 1,050.
Sensory swing tent - create your own swinging cave!
A fun thing you can now buy for sensory swings is a tent for the sensory swing. It comes in white, black and red, so you can choose the one that best suits your home. Kids will love hiding in the teepee, and they'll have their very own den where they can relax and rock gently.
The tent will certainly make the swing more popular and encourage children to play more fun, educational and challenging games.
Price: 495 kr. at sansegyngen.dk.
Swing extension
If you want the swing to hang a little lower, you can buy an extension piece. Then it is easy to adjust the height of the swing depending on who is using it. The swing is available in 50, 70 or 140 cm.
Tumble swing from Bobles
Bobles has created its own swing, which is very similar to the sensory swing. The swing itself is made of Bobles durable EVA foam, and is a super soft material.
The great thing about the bubble swing is that the straps can be adjusted, so the height of the swing can easily be adjusted according to the child's age and development.
Swing stand
A swing stand is necessary if you need an outdoor swing and there are no suitable trees to hang the swing from.
At Coop you can buy this set with both swing and swing for 2.549 kr. It's all good quality, and of course safety approved for lots of fun and games.
This sensory swing stand and round swing, is simple and elegant in its design, and will fit into any garden.
Cheap swing - 449 kr.
If you're looking for a good sensory swing that won't break the budget, this swing from Nordic Play is a good bet. It is a durable swing with a maximum load of 100 kg. It has a soft foam edge and is safety approved.
It's a great, affordable swing that can be used for hours of fun and play.
Sensory swing offer
Sensory swings are often on offer. It is therefore worth looking around on the various sites before you buy your swing. You're sure to find what you think is the best swing.
Fun games on a round swing
The sensory swing strengthens the child's balance due to the rocking movements. Roughly speaking, all movement strengthens the motor skills of children and babies, but it is particularly good when children swing, jump, swing or hang upside down. This causes the fluid in the three vestibular passages to flow back and forth. This helps the child to learn his or her own body and balance, and creates an important motor foundation to be used throughout life.
For very young babies, being gently rocked back and forth on the swing is enough. For extra comfort, lay baby on a cushion, soft lambskin or similar. If you have the original sensory swing, you can buy a matching cushion and edge. See it here.
When your baby is 2-3 months old, it's time to really start neck training. This means that baby should lie on his tummy as much as possible during his waking hours. Try lying baby on his tummy on the sensory swing and see how your baby sucks in sensory impressions. It stimulates the whole body and it's not impossible that you can turn baby over on his back for a nap on the swing afterwards.
One swing - many possibilities
Unlike many swings, your baby can use the sensory swing from day 1. In the beginning, it can even be used as a kind of extra bed where baby can rest or sleep. Later, it becomes more challenging to swing and play on.
When your child is motorically strong enough, perhaps around 18 months, he or she can start climbing up and down the swing on their own. This is a great motor challenge as the swing is not fixed but moving. Children love it when they can do things for themselves. At this age, remember to consider whether the swing should be a little closer to the floor or the ground. An indoor swing has a slightly longer string, and therefore hangs closer to the floor. However, there should always be 35 cm from the swing to the floor or ground.
Can be used throughout childhood
As your child gets older, it will be fun to sit on the sensory swing with friends. Sensory swings can typically withstand a load of 100 - 200 kg. The popular Krea sensory swing can withstand a load of 100 kg, which in most cases will be enough for 3-4 children.
If you want a sensory swing that can seat a lot of children who are not necessarily babies, consider the institutionally approved swing from sansegynge.dk. Available at  here for 2.799 kr.
https://startpakke.com/wp-content/uploads/2017/03/logo.jpg
0
0
Maria
https://startpakke.com/wp-content/uploads/2017/03/logo.jpg
Maria
2017-04-25 11:11:10
2017-08-23 12:18:40
Best sensory swing