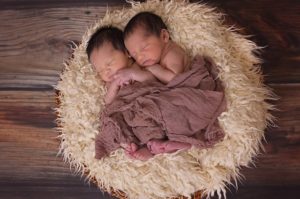 If you're lucky enough to be expecting two little golden boys, choosing names becomes a little more difficult. Names for twins should go together, but not sound too "silly".
On this page you will find: Names for twin boys, names for twin girls and name suggestions if you are expecting both a boy and a girl.
When it comes to choosing names for twins, most people want a pair of names that go well together. At the same time, it's important that the names don't sound silly together, like Dan and Mark.
Alma and Anina
Alma and Ella
Anna and Astrid
Asta and Ella
Circle and Chili
Ellie and Lilly
Frigga and Freya
Ida and Astrid
Camomile and Mynthe
Lea and Thea
Leonora and Kornelia
Lina and Luna
Life and Happiness
Liva and Luna
Liva and Mia
Lærke and Mejse
Malou and Malia
Melanie and Melina
Molly and Maggie
Nicca & Lucca
Nynne and Lykke
Arrow and Puk
History and Frigga
Saga and Sia
Sara and Sofie
Silja and Lia
Vega and Nova
Vigga and Vera
Vilja and Caja
And then the slightly more silly / special
Anna and Elsa
Anna and Lotte
Helle and Lykke
Balthazar & Bastian
Birk and Bo
Caspian and Leander
Elias and Liam
Falcon and Felix
Felix and Huxi
Frej and Jasper
Gustav and Oscar
Hermann and Hubert
Hubert and Huxi
Jasper and Julian
Jeppe and Emil
Liam and Milas
Liam and Milo
Lucas and Liam
Mikkel and Magnus
Mikkel and Marius
Nick and Nicolai
Oliver and Oscar
Sebastian and Sylvester
Sigurd & Silas
Simon and Sander
Thor and Frey
Thor and Thomas
Tristan and Caspian
Viggo & Valdemar
William and Valdemar
Villads and William
Vincent and Villum
Ash and birch
Herbert and Hubert
Jamie and Oliver
Jesus and Muhammad
Karl and Max
Mark and Ronnie
Odin and Thor
Teddy and Bear
Anton and Alma
Birch and Bear
Camille and Claes
Emil and Ida
Hanna and Hjalte
Karoline and Konrad
Lukas and Emma
Marle and Malthe
Naya and Noah
Noah and Liv
Noah and Siv
Sofie and Emil
Sigrid and Anton
Simon and Silja
Thor and Thea
Toke and Freja
Vilma and Victor
Also in this category, you can find fun and different combinations
Adam and Eve
Anders and Ann
Anders and Sine
Anja and Victor
Bow and Arrow
Frederik and Mary
Hansel and Gretel
Nor and Dea
Per and Sille
Susie and Leo