Here, we've taken a look at the many children's scooters on the market and looked at which models are the best for kids.
What you should consider before buying a children's scooter
Before buying a scooter, it is a good idea to first get an overview of the many different variants and qualities of scooters. Unfortunately, many people end up buying a scooter that is either too expensive or too cheap for their child's needs, resulting in a disappointed child and you may end up having to buy another scooter.
First of all, you should choose a scooter based on your child's age and what the scooter will be used for. If it's just for play, a cheap scooter may be fine. However, if it's going to be used for transport to/from school or nursery, it may be worth investing a little extra in one of the best children's scooters. If the scooter is to be used for tricks, there are special trick scooters for this purpose. Here we have looked at the different types of scooters you can choose from. We have looked at the best scooters at Children in Balance and at Only4Kids. 
Content
Click to read more.
Scooters - how old should the child be?
How old a child needs to be to stand on a scooter depends very much on each child's balance and desire to stand on a scooter. For the youngest, it is possible to choose a scooter with three wheels or a scooter with a saddle. In general, however, the child should be around 4-5 years old before mastering a scooter, and preferably older in the case of a dedicated trick scooter or electric scooter, which are also very popular. If your child is not yet old enough for a scooter, you could consider a scooters, which can be used from the age of 1.
Best scooters for kids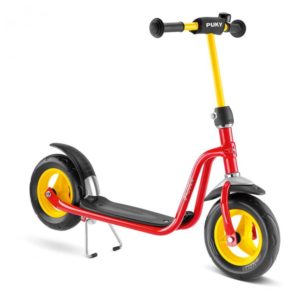 When you are looking for the best scooter for children, we have chosen to highlight scooters from the brand Puky. Puky also makes really good racing bikes and children's bikes, which are always of good quality. Puky makes scooters that are easy to master for children of almost all ages. Puky scooters available in several colours, and seen here in red, which is one of the most popular colours.
Trick scooters - do cool tricks on the scooter
What distinguishes the trick scooter from other types of scooters is that it is designed to do tricks. A trick scooter is made to be very light, and therefore easy to jump on / swing around with. In addition, it should be mentioned that trick scooters are made for older children or adults who want to ride on tracks or just learn some fun and cool tricks with their scooter. A trick scooter can turn around in the joint between the handlebars and the board, which allows for some pretty wild tricks.
Trick scooters are available in many different qualities. If you are serious about doing tricks with the scooter, we recommend that you do not go for the cheapest scooter, but invest in a really good quality one. If, on the other hand, it is something that needs to be tried out, perhaps by e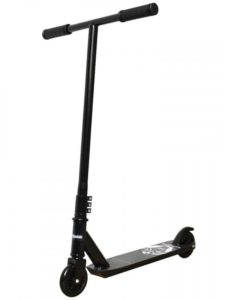 t school, it might make sense to buy a cheaper scooter to start with, and possibly upgrade to a more expensive one later.
Trick scooters - good and cheap trick scooters
Here we have a look at a good trick wheel, which can be bought for a very cheap price at Only4Kids at 439 kr. The trick scooter is very light and easy to ride around on, and is very suitable for doing cool tricks on. The special T-Style handlebar makes it optimal to do tricks on, and it can rotate 360 degrees. The scooter is available here.
Electric scooters / electric scooters
An electric scooter is a fun way to give your scooter a little more speed and action than the traditional scooter. Especially for older children and adults, an electric scooter is a fun activity. For school children, an electric scooter can even become a means of transport that is an alternative to the bicycle or the car.
If you have decided to invest in an electric scooter, it pays to research the subject thoroughly before buying. There is a huge difference in price between the various electric scooters, which can cost from around €600 up to €7-10,000.
Can I ride an electric scooter in traffic?
Yes! Fortunately, you can ride your new electric scooter in traffic without any problems. In 2015, it became legal to use electric devices in traffic, including OneWheels and Segways, as well as electric bikes, electric skateboards and electric scooters. Remember to stay on the pavement as you are considered to be walking.
Cheap electric scooters
This electric scooter costs just 1.780 kr. at Only4kids. It needs to be charged, and can then go about 15 km on one charge. The scooter is quite advanced and has many cool features, for example a good handbrake. In addition, the electric scooter has a saddle, which makes it suitable for longer distances where you may need to sit down. You can read more and buy the scooter here.
Scooter with seat
A scooter with seat is a smart combination of a scooter and a treadmill. A saddle scooter allows you to take a break and sit down for a while, which can be especially comfortable if you need to use the scooter for long distances. A scooter with a seat can be used both as a scooter and as a treadmill. For example, if you are going downhill, you can sit on the seat and lean back a little, so you don't have to work so hard to keep your balance.
Electric scooter with big motor
This electric scooter costs 5.579 kr. at Only4Kids. It has a large 1600w 48V brushless motor, and for the price you also get a nice and stylish design. The scooter has rubber tyres, which you don't see on many models. This gives the scooter extra grip, and makes it easier to get on at slightly higher speeds. There is an indicator in the handlebars that shows how much power is left before the scooter needs to be recharged. A smart detail that makes it easier to use the scooter in everyday life. If you need to take the scooter with you in the car or similar, it folds up to take up almost no space. You can read more and buy the scooter here
A tricycle - ideal for children
A tricycle is ideal for children who don't yet have enough balance to master a two-wheeled scooter. A three-wheeler can be a good transition to a two-wheeler and can give your child a good start on a scooter. A three-wheel scooter is slightly wider at the back of the board, where two of the wheels are, and then a wheel at the front, which is a turning wheel. This gives the scooter a much better balance, so you don't tip over so easily. At the same time, it means that the scooter can "stand on its own" more easily without having to hold on to it. This makes it easier to park the scooter and keep it under control when getting on and off. '
You can see many different tricycles here.
The thing to be aware of with tricycles is that they can't help but be a bit clumsier to carry around. It is therefore a bit more cumbersome if you have to carry it, or carry it in the car or on public transport. In addition, the wheels often have to be quite small in order not to be too violent, which can actually make a tricycle quite difficult to ride. If you want a tricycle to provide better balance and more safety for your child, you should look for a scooter with large wheels.