A racing bike is a great way to start your cycling career. In this article, we've taken a look at the best road bikes for kids. Also read about which bike is right for your child's age.
However, before you buy a running bike, there are several things to consider. Read more below.
Puky racing bike - the right choice for your child?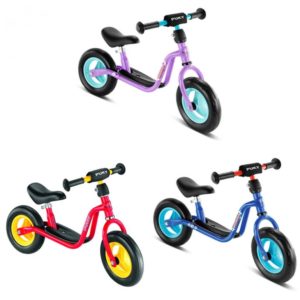 Children in Balance sells the bikes at a good price, but otherwise they can also be bought at The Toy Shop or LirumlarumlegAmong the best running bikes are the running bikes from Puky. You're likely to find the best bike for YOUR child here, as they come in almost every colour and size.
The bikes are very light and simple in shape, and therefore easy to master for most children.
This is a very popular running bike, and you see a lot of them running around in streets and kindergartens. If you're looking for a bike with a more unique look, you should check out the others we mention below.
Before you buy a treadmill online
Before you decide which bike is the best, there are several things you should consider.
Choose a treadmill that can be adjusted in height
Running bike with four wheels for children under 2 years
Running bike with two wheels from about 2,5 - 3 years and up to 6 years
Read more at the bottom of the page!
Best jogging bikes for kids
Here we've highlighted some of the best kids' bikes. We take a look at wooden bikes, cheap bikes and of course the popular Puky bikes, which are a great choice for many.
Kokua running bike - maybe the best running bike?
Top of the class treadmill! When only the best will do, you should immediately take a closer look at the Kokua running bike.
This running bike is not a cheap running bike with its price of almost 1.700 kr., but nevertheless this is probably the top model when we talk about running bikes. With its lightweight aluminium frame, the bike weighs just 3400 grams.
It can be adjusted a lot, so it can be used up to the age of 6!
After which a switch to a real bike will go easily, as the child already has a good balance. The running bike has several features to help the child learn to ride. A good and lightweight bike, which is an obvious investment if the treadmill is to be used for everyday transport. Seen at Lirumarumleg.
Kiddimoto Baskets Fleur bikes with nice pattern (new)
Does your child need to ride a cool bike that doesn't look like everyone else's?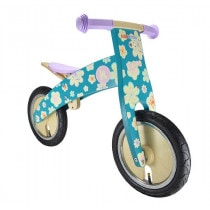 If you like a running bike with a different look that is also an affordable running bike, this one is worth a look. It's new from the dealer Only4Kidsand there are many colours to choose from. You can even get bike helmets to match, so your child will be extra cool when he or she whizzes off on his or her racing bike. See the range of bike helmets here.
Black wooden running bike from Krea - perfect as the first bike
Retailer: Sundleg
Price 679 kr.
Age: from 2 years
If you're looking for a bike that offers good quality for the price, and also has cool details, this is the one.

The running bike has puncture-free tyres and a reflector at the front so your child can be seen in traffic. The saddle is adjustable so it can be adjusted as your child grows.
Very nice running bike at a good price. The running bike is in black wood and a perfect choice for your child's first running bike. It's a bike at the cheap end of the scale, but you still get a really good piece of equipment where your child can learn to keep their balance, and get nice and fast.
Very special treadmill: 4-in-1 treadmill in wood
Looking for a bike that's a little out of the ordinary? Then this special edition might be the right one for your child.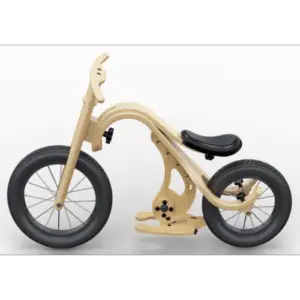 Although this running bike is certainly on the expensive end, it is definitely worth a look. It can be converted into a regular bike with pedals when the child is old enough.
So it's a bike that grows with the child. The bike can be adjusted in several ways, so the child can try it out from the age of 2 and then up to 6 years!
The bike can be modified to a total of four levels of difficulty. No tools are needed when it's time to go up a level. Here you get a quality bike for hours of play and fun for years to come. It's not a cheap bike, but it has a well thought out design with exceptional quality. See more here (only dealer at the moment is Sundleg.)
Police wooden bicycle
Wiiuu Wiiuu! Here come the police!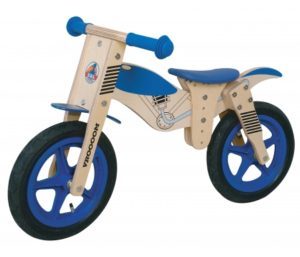 If your child loves to play police officer, then this racing bike is perfect. It's made of wood and decorated like a real police motorcycle. It can therefore be used both for play and for everyday transport.
The running bike is suitable for children from about 3 years. Here you get a really nice bike in good quality that does not cost a fortune. Seen at Cycling partner.
Small wooden scooter - a different kind of running bike
A really cute running bike. Your little tyke will be unstoppable when he or she comes roaring on this thing.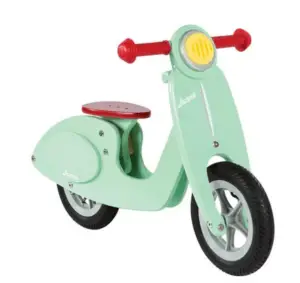 It has a cool retro look, and is sure to draw envious glances on the street or in the playground. The height of the saddle can be adjusted so it can be adjusted as your child grows.
The inflatable air wheels provide maximum comfort and good suspension. The wheels can be easily pumped with a regular bicycle pump. However, be careful not to over-inflate them, as they may bounce. Seen at Lirumlarumleg.
Good to know before the first bike ride
When you put your toddler on the bike for the first time, don't be disappointed if he doesn't get excited straight away. It's a whole new way to get around and it can be overwhelming for your child. He may also feel a little insecure on the bike and need to get used to the new sensation. Try to go slowly, or give your child some time before trying the bike again.
Advice: What you need to know before buying a children's bike
A treadmill helps to strengthen both your child's physical and mental development. However, it is important that you choose a bike that suits your child's height. There are many different exercise bikes available in wood and other materials. This means that there is a bike for almost every taste.
Why your child needs a treadmill
There are many good reasons to teach your child to ride a bike, and every child needs to learn to ride a bike at some point. A racing bike is a great way to get started. It teaches your child to balance, and quickly strengthens their balancing skills so they can better keep up with their parents when you're out for a walk or similar.
Preparing your child for a real bike
He can get ahead on his own
Balance is developed and strengthened
Running bike - when?
Many children can easily start using a treadmill when they are 1.5-2 years old. By this age, most children are comfortable enough to walk and run, and are looking for new challenges. On a treadmill, children need to coordinate their hands, arms and legs to keep their balance while moving forward. At the same time, it's easy to brake the bike by simply putting your feet on the ground.
The first racing bike
Four-wheel scooters can be used from around 1 year old. It will depend on how far he or she is in his or her motor development. A four-wheel bike doesn't require as much of the child's balance and is really easy to ride. A four-wheeled walking bike can be used up to the age of 2-2.5 years.
Then the four-wheeled bike starts to get too small, or it's not so exciting for her anymore because it's not challenging enough. Then it's time to switch to one with just 2 wheels.
Which running bike is best?
There are many different treadmills to choose from. They come in different price ranges, sizes, designs and qualities. So you can find the one that best suits your child and you as parents.
Things to think about when buying a treadmill
It must fit your child's height
It should challenge motor skills, but your child should also feel safe
The child must be able to get on and off
Feet must be able to stand flat on the ground
Design and quality must match your needs.
Think about how much you will use the bike. Does she have to ride it every day to and from nursery? Or is it just for running around the front yard?
If you want a bike that really lasts, you should expect quality and price to go hand in hand. Of course, a plastic bike won't last as long as an aluminium one. A two-wheeled bike will last much longer than a three- or four-wheeled bike, so it's often worth buying a slightly more expensive one.
Bicycle helmet for children
The key is to get yourself and your child into some good habits from the start. So remember to wear a child's bike helmet from the moment your child starts using a bike.
Before buying a bike helmet, measure the size of your child's head. It is important that the helmet is not too big so that it sits loosely on the head. Conversely, it should not be too small to make your child uncomfortable. Remember to leave a few centimetres for a hat if it's winter.
How to set a bike helmet for children and yourself

The stops under the chin should be tight enough to fit two fingers between the straps and the skin. The buckles should be adjusted so that they hang just below the earlobe, as if they were an earring. Usually there is an adjustable button at the neck that you have to screw on. The helmet should fit tightly so that the helmet stays where it should. However, it should not be uncomfortable for your child.
Buy bicycle helmets for children here
Important!
Push the helmet all the way forward on the forehead so it protects the head as well. It should sit so that it covers about half of the forehead for optimum protection. Pay particular attention to whether the hat is pushed back if your child wears a hat during cycling.
Abus bicycle helmet for children
Abus bicycle helmets for children are popular because safety is always top priority. Abus children's bike helmets have the best safety approvals. Many of the models are "flat in the neck". This means that the child does not have to bend their neck to sit comfortably in their high back bicycle seat.
In addition, Abus produces bicycle helmets for children of all ages. The smallest bike helmets have an internal measurement of 45 cm. Here, very small children, or children who do not have such large heads, can thus get a bicycle helmet that fits them. The range of bike helmets for children also includes many great colours and patterns, so there is something for everyone.
Before you decide which bike is the best, there are several things you should consider. Unfortunately, many parents end up buying a bike that their child can only use for a few months, or buying one that is too big and will be a big disappointment to their child if he or she can't use it until, say, a few months later. a year.
Choose the right size of bike
It is very important to buy a bike in the right size. The child should be able to sit on the saddle and have its feet flat on the ground at the same time. You can check the height of the bicycle at the retailer. You can measure this on your child by measuring from the inside of the heel up to the crotch. When the saddle is fully down, the new bike should fit roughly in line with your child's stride. Then you can adjust the saddle upwards over time so your child can enjoy their bike for as long as possible.
Two wheels or four wheels on the treadmill?
The quadricycle is best suited for children under 2 years. From around 3 years of age, a two-wheel bike is best.
In most cases, children can only master a two-wheeled treadmill when they are somewhere between 2.5 and 3 years old. This is because a two-wheeled scooter places high demands on balance and coordination. If you want to give your child his first bike before the age of 2, it is recommended to start with a 4-wheel bike, which can later be replaced by a two-wheel bike, or perhaps a real bike when the child reaches the age of 3 - 4.
Check security
Before you buy, you should also check the safety of the bike. It's a good idea to choose a bike with small "dots" on the outside of the handles, so that little hands can't slip off easily. Very small wheels will generally create a bike with poorer balance than a treadmill with small wheels. Especially when it comes to the two-wheelers. But here you have to assess how much and how the bike will be used.
Handbrake on the bike - is it a good idea?
More and more road bikes have handbrakes. It sounds smart, but actually a child needs to be 5-6 years old before they can master a handbrake. At this age, most children are ready for a real bike anyway. At worst, the handbrake can provide a false sense of security for both child and parent. It is therefore advisable to start with a bike without brakes, and then switch to one with brakes if necessary.
[yasr_overall_rating size="small"]