Tobogganing is a great game for children and adults alike. Of course, you need the best toboggan for children to get you down the hill quickly, time and time again.
Here we've gathered some of the best toboggans for kids, which are great to use when the Danish weather is snowy and cold.
The classic wooden toboggan, but with the clever detail that this one is foldable! There are not many days in the year that the snow in Denmark is high enough to toboggan. That's why it's really nice that the toboggan doesn't take up too much space when it needs to be stored for the rest of the year. The red is plastic and can be easily removed, so the sled can be folded without the use of tools.
Blue foldable toboggan for children
Weighing only 4.6 kg, this sledge for children can be easily taken around. It folds up quickly - and unfolds again, ready for use. The folding mechanism is safe.
The refrigerator can hold 2 children or 1 adult with 1 child. A toboggan that offers many wonderful and fun hours in the snow!
Cheap sledge in plastic - only 179 kr.
A super toboggan that weighs just over kg. as it is made of plastic. The sled is easy to pull with the string attached. There are handles on the side so you can hold on for the ride. This toboggan for children is a classic toboggan, which you always see a lot of on the toboggan run.
Rump seat - small and light sled!
A sled that hardly gets more simple or easy to carry on the go. A so-called "rump sledge". You sit on the seat, hold the handle between your legs and you're off down the hill! A great sled for slightly older children (over 4 years).
Cool snowmobile (from 6 years)
Get out in the snow fast with this super cool snowmobile for older kids. Getting around on this cool scooter requires great balance and motor skills. A fun alternative or complement to a toboggan.
Let your child learn new skills on this great snowboard for kids. It demands just a little more balance than a traditional children's sled. The snowboard is on the cheap side at DKK 157 and can be used as a complement to the sled.
The classic wooden toboggan
The good old wooden chalet that mum and dad also had when they were kids
The beautiful classic toboggan we all know from the old days. This model is made of soft beech wood that holds up well to snow and slush. The sled stands very firmly on the ground with its weight of 2.65 kg. The sledge can accommodate 2 children or 1 adult and 1 child. This toboggan measures : 86 x 33 x 20cm
Remember the warm clothes for the cold time
Super cute jumper from Wheat that keeps the kids dry and warm.
Buy it here for 949,95 kr.
Of course, it's important to dress your child warmly during the cold season. The clothing should be both windproof and waterproof. When there is both snow and slush, it is best if it is a sleepsuit, which is most effective at keeping out cold and moisture.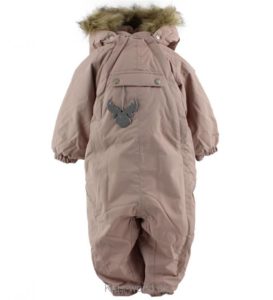 Warm mittens from Mikk-Line with reflective stripe.
Buy them here.
Hats and mittens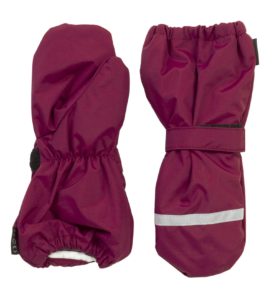 Much of the body's heat is lost from the head and hands, so it's important to give children both hats and mittens to wear when they're out playing. There really are lots of hats and mittens to choose from. If you're finding it hard to choose, take a look at our overview of the best hats and mittens for kids.