When choosing a junior bed for your child, it should of course be the best junior bed you can find. Luckily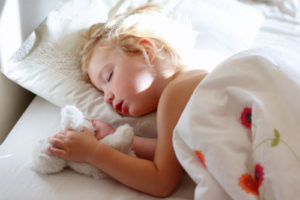 there are many different junior beds on the market, so you can find the best one for your child. On this page, we'll give you examples of good junior beds in different price ranges. Which junior bed you choose depends on your budget, your child's age and, of course, your preferences in terms of looks, colours and design.
If you're not sure if your child is ready to move from a cot to a junior bed, click here to get to the bottom of the post and see three ways your child is showing he or she is ready for a junior bed.
What kind of junior bed is the best?
As written before, there are many different junior beds to choose from. In fact, it doesn't have to be a junior bed in the strict sense, but an ordinary single bed, or box mattress, can be a great option for slightly older children aged around 5 and upwards. Click here to see good box mattresses that are great as junior beds.
Scroll down and see different offers for the best junior bed
Babydan junior bed - a good and cheap junior bed
Babydan junior bed negotiated at Coop and costs 1.149 kr.
A classic Babydan junior bed in a neutral design that will fit in any children's room. The bed is equipped with bed rails for added safety. The bed frame is especially a good idea after the transition from the cot, as the child is used to the fact that you can't fall out. This junior bed measures 70 x 160 cm, so it's a good size without being too big.The bed rails run approximately 2/3 along the edge. This junior bed is therefore best if the child does not lie too restlessly at night, so he or she does not lie down at the other end where there is no protection from the bed frame. The advantage, on the other hand, is that there is plenty of room for mum or dad on the edge of the bed, and it is easy to get in and out of bed.
Flower junior bed with flowers and butterflies
Beautiful junior bed with practical storage space - perfect for the girls' room
A suggestion for the best junior bed for the girl who loves the colour pink. The bed is very nice and is decorated with flowers in beautiful and feminine colors. The edge of the bed goes up slightly around the headboard, creating cosiness and security for the child. It's a good idea to add an extra bed frame if your child is very restless. There are practical drawers under the bed for storing bedding or toys. The junior bed for girls is made of sturdy MDF with lacquered surfaces. The bed is suitable for mattress size 140 x 70 cm.
Half-height junior bed - get more floor space in the children's room
A cosy half-height junior bed with a beautiful curtain (choose from several colours and designs). The bed costs DKK 1999.
A semi-high junior bed is an exciting option for many children. It provides more floor space, which you can almost always use. The child can play den under the bed, where there is room for a real cosy corner. Many children will find it fun to climb into bed and sleep a little higher up. However, this is not necessarily the best junior bed for your child. If your child is likely to wake up and get out of bed at night, or even sleepwalk, then a half-height bed is not a good junior bed, as you could fall and hit yourself. It's also hard for mum or dad to sit on the edge of the bed when it's nap time. In general, a half-height bed probably the best junior bed for slightly older children from around 5 years upwards.
Sebra junior bed
The beautiful Junior bed from Sebra are often chosen by parents who like to pay a little more for a nice design that fits in well in their child's room. The bed is also available as a toddler bed, which is then a combi bed, as it can be converted into a junior bed. Find out more at Pixizoowhere you will find great prices on Sebra. Sebra is a well-known brand that makes products for children in good quality. The junior bed has a nice design and is available in several colours. Here it is shown in the grey color, but is also very popular in a classic white. The junior bed from Sebra costs 5.495 kr. at Pixizoo.
High quality princess bed
Wooden junior bed in a beautiful princess design
Do you have a real princess at home? Then this junior bed is just the thing. It's not a cheap cot, with a price tag of £5,569. The price of this junior bed is higher than so many others because it is made of solid wood. The bed looks great with crowns painted in gold on the pink ends. The legs and balls on top of the gables are also gold, and help give the bed a truly royal look. Drawers can be added to the bed to provide storage space. The junior bed is a full 200 cm long, so it can be used for a long time. However, if it is to be used for a small child under 2 years old, it is a good idea to purchase a bed frame for extra safety. This bed can be purchased from the webshop Minegenverden, where many beautiful pieces of furniture in this series are sold.
Nice box mattress as junior bed
This bed costs DKK 11,995 at the retailer Sengetid.dk.
A box mattress like this is not a cheap junior bed, but it is a good investment. This is because the box spring mattress contains two layers of springs and has a nice top mattress, which overall provides much better comfort for the child than a foam mattress. A box mattress like this can be used right up to adulthood, when most people choose to replace the bed with a one-and-a-half or double bed.
True princess bed
Beautiful princess bed for the girls' room with many nice details.
If your girl loves everything about princesses and Disney, then this might be the best junior bed for her. The bed itself is shaped like a carriage, creating a cosy den for baby. At the end of the bed, there is a bench where you can sit and read stories. Under the bench there are two drawers with space for teddy bears, duvets or other things. Smart storage. This junior bed requires a lot more space than a traditional junior bed, as it takes up more room on all joints. On the other hand, it creates a cosy bed for the little princess.
Junior bed with dollhouse
Good and stable KidKraft junior bed with cute details for 1.849 kr.
Kidkraft makes the finest furniture and toys for children, which are also of good and durable quality. This junior bed is no exception, as it is beautifully finished in wood. The bed is built like a little house with both flowers and fences around the bed. This creates security and makes the bed a nice place for both play, coziness and sleep. At the end of the bed there is a small doll's house where the dolls can live.
Is your child ready for a junior bed?
When you're looking for the best junior bed for your child, it's probably because your child is getting too big for their cot. Maybe your child has started to crawl out of their cot, or maybe your child has outgrown their cot. There can be many reasons for parents to consider when to make the switch to a junior bed.
Some children love their cot, and feel a great sense of security knowing they are behind the bars and perhaps their bed rail. Other children enjoy the opportunity to crawl in and out of their bed themselves, and therefore sleep better when they move to a junior bed. Another advantage of a junior bed is that parents can sit on the edge of the bed and read bedtime stories or hold hands if needed. In this way, you are less separated from your child with a junior bed than when you have a three-poster bed.
Here we have listed three points for you to consider when deciding whether you should get a junior bed.