E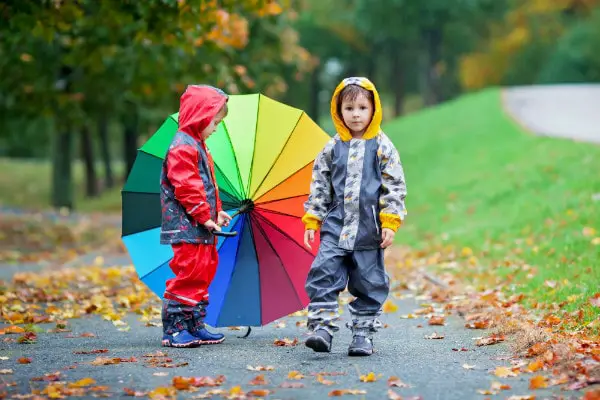 t's rainy season - and so, of course, it's time to shop for rubber boots. Here we've written a little about what you should consider before choosing rubber boots. You'll also find a selection of the best rubber boots for kids.
Be aware of this before buying rubber boots for children
Since there are so many rubber boots to choose from, it's a good idea to consider these things before buying. To find the best rubber boots for children, it is obviously important that they keep water out and fit well on the foot. Many parents choose to buy children's rubber boots online, so it's a good idea to measure your child's foot to find the right size. There's almost nothing worse than rubber boots that are too big and make you "wobble" around in them. On the other hand, there should also be room for a thick sock on those particularly cold days. A 1 - 1.5 cm wax allowance is recommended for children's rubber boots.
Measure your child's feet
The size of rubber boots varies depending on the brand. Measure your child's feet and check the size guide for each brand to make sure you choose the best rubber boots. A 1 - 1.5 cm growth allowance is recommended for children's rubber boots.
Do you prefer a particular brand?
Does your child have wide or narrow feet? If there's a shoe brand that tends to fit juniors' feet, it makes sense to choose rubber boots in that brand too.
Should the rubber boots be with or without lining?
The rubber boots with lining are more like a winter boot, which is really good in snowy weather and on a cold rainy day. The ones without lining are best for the transition period.
Colour and design
Unlike many other shoes, rubber boots come in a multitude of colours and designs. Consider whether there are particular colours your child would prefer.
The best rubber boots for children
Here we have highlighted examples of the best rubber boots from children. All the rubber boots are from Kids World, which is an online store with a really great selection of children's clothes and shoes.
Rubber boot for children from Bundgaard
Beautiful rubber boot from Bundgaard, shown here in a red color. The boots are equipped with reflectors that increase visibility on a wet and cold morning. There is a lace up front, which is a nice decorative detail The lining is a nice wool blend, so little feet won't get cold. The sole is nice and thick, and stays firm. The rubber boots cost 379,95 kr, and can be bought here.
Viking Rubber Boots
Viking is perhaps the best known brand in rubber boots. For many parents, the choice lands on Viking rubber boots for children, as they are produced in strong quality that will last for many hours of play. The sole is rough, providing a good grip. The rough edge goes up around the heel and the toe, giving the whole boot a better quality. Viking rubber boots are available in many colours and patterns, so there is something for everyone. The model shown costs DKK 299.95 and can be purchased here
Enfant rubber boots
Another pair of rubber boots in very strong quality. This model from Enfant has an edge at the top that is the same colour as the laces. Enfant is known for making great shoes for kids that can be a little cool to look at. This model has a removable sole, so they dry quickly and are ready again almost day. At the back there is a reflector. The boot costs DKK 299.95. Go to dealer
Didrikson - short model
Didrikson makes really great outerwear and clothing for both kids and adults. In these rubber boots for kids, a little extra thought has gone into the details. The rubber boots are not so high in the shaft, which makes them more ergonomic to wear. There is an elastic band in the shaft, which makes them super easy to put on and take off again. The boots are especially good for slightly older children who run around with their rubber boots for many hours. This model costs DKK 299.95 and can be purchased here
Molo Rubber Boots - with lacing
Molo makes colourful products, and these rubber boots are no exception. They are great to look at with stripes and colours. There is a drawstring fastening at the top of the shaft, so the boot can be fitted snugly. This prevents water from running down the boot. The sole is sturdy and the boot is lightly lined with fleece. Removable sole. A really nice pair of rubber boots for children. The price is DKK 249.95. Buy them here
Rubber boots with glitter from Petit By Sofie Schnoor
Here is a pair of really nice rubber boots. They are dark and have glitter pattern with 3D effect. Inside they have a quite strong lining, and are therefore a warm rubber boot. The rubber boot is slightly shorter than the traditional rubber boot, and is therefore easy to walk and run in. A super rubber boot that is a great addition to your wardrobe. The price is 199,95 kr. and can be bought here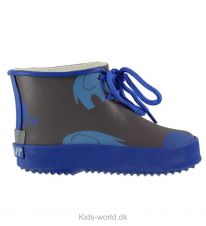 CeLaVi rubber boots for children - short model with elephants
A cute little rubber boot for kids, as resembles a regular shoe in its design. The rubber boot has a good sole that stays firm even in wet weather. The boot has a removable sole so they can dry quickly. The model shown is also available in pink. The rubber boots cost DKK 249.95 and are available here
Hunter rubber boots - available from size 26
Very nice rubber boots in natural rubber from the brand Hunter. On the outside the boots have a decorative buckle and a large Hunter logo. The boot has a good thick sole that gives good footing. On the back of the rubber boot there are large reflectors. There may be a thin white layer, which is due to them being made of natural rubber - this can be treated with Hunter Boot Buffer. The boots cost DKK 599.95 and are sold here
Thermal boots - the most waterproof winter shoes!
A thermal boot is a rubber boot that is extra strong in quality and has a nice warm lining. With this combination, you get perhaps the most waterproof winter boot, where it is almost impossible for water to penetrate again, the small feet. Thermal boots are particularly suitable on days with lots of slush and heavy rain. Thermal boots are indispensable for outdoor children who spend many hours outside playing and having fun. Here we have mentioned two versions of the best thermal boots for kids.
Viking thermal boots - 100 % waterproof and insulate down to - 20 ° C
Super stylish boots that are guaranteed to keep little feet warm and dry, even in very cold weather. Inside the boots there is a nice lining in a wool/polyester mix that dries quickly. At the shaft there is a reflective label. A really nice pair of thermal boots for the cold season. The price is 399,95 kr. and is sold here.
Thermal boot from Bisgaard - with nice pattern and lace
Another great pair of thermal boots. This model is from Bisgaard, and differs from many others on the market by having a nice pattern, and a lace. The quality is very strong, and keeps the water out. Inside the boots there is a nice and warm lining. The boots cost 399,95 kr., and can be bought here
https://startpakke.com/wp-content/uploads/2017/03/logo.jpg
0
0
Maria
https://startpakke.com/wp-content/uploads/2017/03/logo.jpg
Maria
2017-09-14 08:14:23
2017-09-14 08:25:48
Best rubber boots for children