If your baby isn't already running around, a baby walker can be great to practice with. As well as helping baby get started, the best baby walker can also be a great toy. We've taken a look at some popular wooden strollers, each with their own strengths but with the common thread that they're a great place to practice walking. Check out some of the best strollers below.
Some people confuse a walker with a stroller. So first a quick explanation. A walker is where you put your baby. It's basically a seat with a sort of ring around it and wheels attached. Baby sits/stands/walks and pushes himself forward. A walker is often not recommended. A baby walker, on the other hand, can often be a good idea. A baby walker is, as the name suggests, a pushchair that the baby can push in front of itself. There is the trolley itself, and then there is a handle where baby can push the trolley. It's similar to pushing a doll's pram or pushchair.
Stroller when and how old
How old does baby have to be before the baby walker is a hit is a common question. When and how old baby needs to be before it is appropriate to have a stroller can vary from child to child, 9 months to 14 months old, however, will often be the time period when the stroller may be appropriate in relation to walking. However, it can be a fun toy for subsequent months too. Used as a doll's pram, for example, or to carry other toys around.
Wooden go-cart
On this page we recommend a good wooden stroller. But beyond that, there are many different types of solutions. You can choose a classic trolley where your baby can have various toys and other rings and can transport them around, or you can choose the option where the trolley itself looks very much like a large toy. Both solutions can be fine. We've found a few great strollers of both kinds that your baby is sure to like.
Childhome

Go-cart with blackboard - several different colours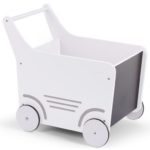 Childhome has made a really nice stroller. The stroller has a really good support, which is important when the child is learning to walk. The pram is ideal for carrying around a lot of different things, which is always a hit with little ones. There is also a blackboard at the front of the pushchair, which can be used for writing on. It's a wooden pushchair and comes in a range of colours.
You can see and buy the Childhome stroller here
Wonder Walker from Hape - test winner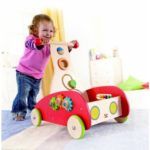 Hape makes really good baby equipment and toys for the little ones, and this stroller is certainly in that genre too. That's why it got the best possible score in both our own test and a test by Our Children. There is a bit more toy about this stroller than the one mentioned earlier. There's actually a lot for your child to play with, which also means that in addition to walking with it, there's a lot of hours of play in the toys on it. It's full steam ahead as the kids rush through the house after the walker, but it's stable and gives your baby good control, even when things are going a bit fast. It's not a cheap stroller, but it's definitely worth the extra money.
You can see and buy Wonder Walker from Hape here
Go-kart from Viga - lots of fun activities
GET EXTRA DISCOUNT ON VIGA STROLLER AT SUNDLEG.DK WITH THE DISCOUNT CODE: STARTER PACK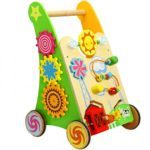 Again a very good walker. The toys and activities for baby to explore have been turned up a notch. This is a super popular wooden activity stroller that there is absolutely no doubt that your kids will love. The go-kart is crammed with fun and not to mention educational activities such as a ball track, turning knobs, farmyard with animals and more.
You can see and buy the Viga stroller here
Volkswagen Bus T1 Blue, Stroller from Hape (cheap and high quality!)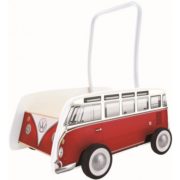 Hape has made a really nice stroller. It is a Volkwagen bus and it is available in both red and blue. If you want to give your child a classic pushchair, but without it looking quite so classic, then this is definitely a big hit! The walker is made of wood, and there is plenty of room for all those great toys to be transported around. Whether it's dolls, teddy bears or wooden blocks.
You can see and buy the Hape walkers here
Educational stroller from Small Foot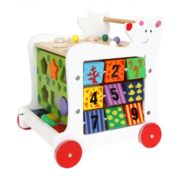 This is a really cute stroller, with lots of possibilities for development and play for your child. As you can see from the picture, there are lots of things to learn from. However, it can still be used to transport things in, as there is a lid at the top. This is a great gift for the youngest in the family!
https://startpakke.com/wp-content/uploads/2017/03/logo.jpg
0
0
Start package
https://startpakke.com/wp-content/uploads/2017/03/logo.jpg
Start package
2017-03-20 10:42:35
2017-08-22 11:37:15
Best stroller for baby - Stroller when and which