When you have a new baby, or one on the way, baby naturally needs a nice cot. The cot can be used for sleeping and as a safe place to play and snuggle. Here we've taken a look at the different options available in baby beds. You can choose from many options, including a bedside crib, a cot, a lift, a baby nest or a cradle. Here we take a closer look at which option is best for your baby.
Read on Get closer to finding the best baby bed for your baby
Contents: baby beds
Click to read more
A cradle for baby - safe sleep in a cosy environment
A cradle - advantages and disadvantages: The great advantage of a cradle for your baby is that with its rocking movements, it reminds baby of life in the womb, thereby creating security for baby when he or she is going to sleep. The cradle does not take up much space, and is therefore a nice, safe bed for the little one. The size also makes it easy to take the cradle around the house. However, if you choose a cradle, be aware that it can only be used for the first 4-6 months, after which it will be too small for baby.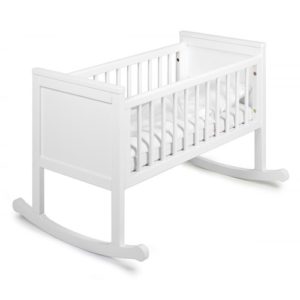 Cute little wooden cradle
An example of a cute cradle is this nice one from Lekmer, which can be bought for a reasonable price of 1235 kr. It's a cute cradle that can even be used in different ways. The picture shows it with tracks, so it can rock and soothe the baby. However, it also has regular legs, so you can just use it as a small crib. One side can be removed so it can be used as a bedside crib. A versatile baby bed for the price, which will be worth its weight in gold in baby's first months. Buy here.
Cot for baby - the popular and practical baby bed
A cot is probably the most popular type of cot, as it can be used from newborn up to around 3 years old. In the beginning, the bottom of the cot can be raised so that baby is not too far down when you have to pick him or her up constantly. At the same time, the cot can be a kind of playpen, where baby can lie safely and securely while you take a bath, for example. When the baby learns to sit up and stand up in bed, the bottom can be lowered. In the cot, baby cannot fall out. You can put a bed rail on the cot to make it extra cosy.
There are many cribs to choose from and they come in many price ranges. A cheap cot is not necessarily a bad cot, you just need to make sure it is approved etc so it has the right spacing between the bars. The more expensive cribs from, for example, Sebra and Leander have beautiful designs and can be converted into junior beds.
Good cot for baby
Good and stable Cots from Manis-h. The cot is in white wood, and will fit well in most children's rooms. The cot has rounded edges, so there are no sharp corners for your little one to hit. The base of the bed itself can be adjusted to three different heights, so it can be lowered as the child learns to sit up and stand. This is also easy on the back for parents. When the child is big enough to climb on and off the bed, the side can be peeled off. A good and inexpensive baby bed. It is sold at Coop here.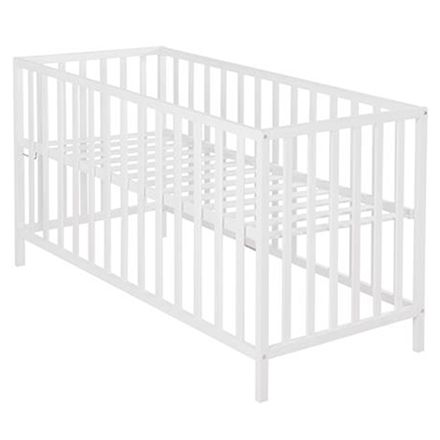 999 kr.
If you're price-conscious, here's a good bet for a cheap cot. This model from the Roba brand is a good and affordable cot that does what it's supposed to. The base can be adjusted to three different heights, so it can be adapted to your child's development. The cot is made from eco-friendly bio-wood, so it's also a good choice if you value the environment when shopping. With a good mattress, this can be a lovely bed for your baby. A great cot that you can safely put your little bundle of joy in.
Bedside Crib - Safe and secure baby bed close to parents
A bedside crib is a fairly new type of baby bed. It's almost like a little lift on legs or "stand", which can then stand directly on top of mum and dad's bed. This way, baby is closer to his or her parents and it is easier to pick up the little one at night to breastfeed or give a bottle. If a bedside crib is the right baby bed for you, pay close attention to quality. Unfortunately, there are some bedside cribs on the market that do not yet meet safety requirements. This is probably because it is still a new product on the market. Make sure you buy a bedside crib that cannot be moved around to create a crack between the adult bed and the bedside crib, as this can be dangerous if baby falls into this crack.
Good and safe bedside crib from Chicco
A lovely bedside crib from the brand Chicco. It is very practical in several ways. It can be adjusted in height to fit an adult bed. One side of the bed can be folded down for easy access to baby. As an extra safety, the bedside crib is fastened to the adult bed with two straps so that it cannot be pushed away. This avoids a dangerous crack between the bed and the crib, which baby could fall into and get stuck. It costs DKK 1,999 at Babytorvet.
Baby nest - a safe baby nest for the little ones
Baby nest is a cosy bed for baby, which consists of a small "baby nest" of fabric, which is super cosy for baby to lie in. A baby nest is probably not the most necessary baby equipment and you can do without it. Nevertheless, many babies really enjoy sleeping in their baby nest as it is a safe and cosy place that is not too big. It can act as a small baby bed that you can easily carry around.
Cute baby nest in powder pink with geometric pattern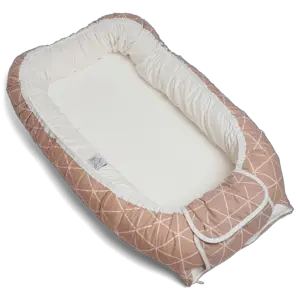 This cute baby nest is ideal for little girls. It has a beautiful, delicate powder colour, which is decorated with a geometric pattern. The baby nest has a modern and Nordic look, but is also very cute and cuddly. This is not a cheap baby nest with a normal price of 799 DKK, but on the other hand it is really nice in quality and thought has been put into the details. Read more about this baby nest here.
 Baby nest with handle
This smart baby nest from Babydan is particularly practical as you can carry baby around in it. The cradle is equipped with handles, which make it easy to move baby around even when he or she is sleeping. This way you can easily move baby around wherever you are. A great baby nest that's a bit more practical with the handles. Buy at Coop.
Find the best baby bed
Are you expecting or has your baby already announced its arrival? A baby cot is one of the first things parents-to-be or new parents buy. The following section is a reading guide for you who want to know about baby beds and their use.
How does a baby bed work?
It is not known when the first cot was manufactured. The most common baby bed is the classic 60 x 120 centimetre cot, which consists of a bed base with vertical slats and is used for babies in their first year of life. However, some parents swear by a cradle for the first few months of their baby's life. Cribs are designed and manufactured for babies of all sizes. There are also baby duvets, baby sheets and baby pillows, as well as covers to put on the bed when the baby needs to be put to sleep. When the baby is a little older, they are upgraded to a junior bed with matching junior bedding. However, more and more beds have the option to grow with the baby, so you can enjoy it for as long as possible.
A baby bed usually has a foam mattress of about 5 centimetres, around which you can put a baby sheet. On top of this you put a duvet with a baby duvet cover and possibly a low baby head pillow, as babies don't need their heads lifted as much. Many parents choose to put a bed rail along the edge so the baby can't get a leg or arm out from between the bars. When the baby is quite young, the bottom of the cot can be raised so that you don't have to bend so low to pick the baby up. Later, when the baby is older, the bottom is lowered again so that the big baby cannot crawl out of bed by himself.
Which baby bed should you buy?
The most well-known brands in baby beds are Stokke, Sebra, My Baby Room, Leander, SEBRA and Flexa, all of which have a strong focus on quality and your child's safety and well-being. It is important to take into account what your child needs when buying a baby bed.