When you're breastfeeding mini, it's much easier if you don't have to spend several minutes half-stripping before food is available for your hungry baby. At the same time, it's nice to wear something nice to breastfeed, especially if you're going to a confirmation or a big family party. That's why we've found the best breastfeeding clothes here.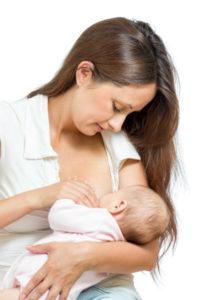 The best breastfeeding clothes are both comfortable and provide easy access to the food boxes when your little one gets hungry. It can be hard to find good-looking nursing clothes in physical stores, and the selection is often limited. H&M sells some excellent nursing tops that don't cost that much. Nursing tops are good to have as basic breastfeeding clothes.
If you are looking for nice nursing clothes, it is recommended to look online. There is a larger selection and it is possible to find nursing clothes in large sizes.
Find the best breastfeeding clothes
Ammet clothes look like "normal" clothes. The only difference is that there is a breastfeeding opening in the garment, which makes breastfeeding both practical and easy. The best breastfeeding clothes make it easy to breastfeed anywhere. You don't have to lift up your blouse and expose your post-pregnancy belly to breastfeed, which many mothers appreciate.
Fortunately, nowadays you can get very nice nursing clothes, so you can't see that they are nursing clothes. You may think that you don't need to buy breastfeeding clothes because you will only be breastfeeding for a while anyway. And many people do get by with a good nursing bra. But there are some unique advantages to buying breastfeeding clothes:
You can breastfeed discreetly, anywhere
It's quick and easy to feed your baby
There are very nice nursing clothes to choose from
No need to pull up your blouse and expose your stomach and risk getting cold
Here you can buy nice nursing clothes
If you're looking for a nice nursing outfit, it's a good idea to start by looking online. These are retailers that specialise in selling the best nursing clothes.
Milker breastfeeding clothes
Milker breastfeeding clothes are not only popular in Denmark, but are also sold to the rest of the world. Here you will find the best nursing clothes if you are looking for nice nursing clothes in many different designs. The prices are on the high end, but you also get good quality for the money. Among other things, you will find a lot of organic clothes. At Milker they have a great selection of beautiful nursing dresses, blouses and much more.

Asos maternity and nursing wear
If you're looking for something a little cheaper, try Asos.com. They have a pretty good selection of clothes that you can wear both as a pregnant woman or as a nursing outfit. They have a lot of nice nursing clothes to choose from, and you can definitely find a nice nursing dress at an affordable price.

https://startpakke.com/wp-content/uploads/2017/03/logo.jpg
0
0
Maria
https://startpakke.com/wp-content/uploads/2017/03/logo.jpg
Maria
2017-04-07 09:13:59
2017-08-23 12:17:25
Best nursing clothes | Find nice nursing clothes here!