A breastfeeding pillow is indispensable when breastfeeding your baby. It is also very useful if your baby is bottle-fed.
See the best breastfeeding pillows further down in the text
Which breastfeeding pillow is best?
Which nursing pillow you choose depends largely on your personal style. You can choose from pillows in many different colours and patterns. Some breastfeeding pillows have multiple functions and can also be used as a sleeping/support pillow while you are pregnant. Still others can be converted into a small bouncer for baby. Check out the different breastfeeding pillows we've mentioned here and find out which one is best for you.
Beautiful nursing pillows from Sebra
Sebra is known for making quality products for children. Their nursing pillows are really nice. The cover matches other Sebra ranges, and is kept in great colours with clear motifs.
Here you can see the beautiful nursing pads in Farm boy / girl theme.
Nursing pillow - Farm Boy
Very nice nursing pillow in blue shades. The nursing pillow gives really good support for when it's feeding time for baby. The pillow has pictures of a tractor and a farmer.
Measurements: L 88 x W 52 x H 20 cm.
Material: 100% Organic cotton and polyester filling.
Sebra nursing pillow - Farm Girl
Beautiful nursing pillow in delicate pink/pink colours. On the nursing pillow there are beautiful pictures for baby to look at. A super nice nursing pillow in good quality. Normal price 349 kr.
Measurements: L 88 x W 52 x H 20 cm.
Material: 100% Organic cotton and polyester filling.
Nursing pillows from Done by Deer
Done by Deer is one of the brands that has really taken off in recent years. The brand makes products in beautiful, delicate colours. The brand is known for making products with nice motifs and animals. For example a hippo, elephant or hippo.
The Done by Deer nursing pillows have a luxury hypoallergenic filling called Fossflakes. It provides unique support for both mother and baby. The pillows are made of 100 % organic, Oeko-tex certified cotton. You therefore get a nursing pillow that is completely free of harmful substances.
Cushion with balloons - pale pink
A really beautiful nursing pillow from Done by Deer. The nursing pillow has a pattern with small, cute balloons. It's a little thicker and shorter than many other nursing pads, so it gives extra support when baby is going right up to the breast.
Dimensions: approx. 50 x 70 x 20 cm
Material: 100% Cotton.
Nursing pillow in grey
A breastfeeding pillow in neutral colours that go well with traditional boys' and girls' colours. The cover is organic cotton and feels really soft and comfortable against both your skin and baby's delicate skin. A beautiful and good nursing pillow.
Dimensions: approx. 50 x 70 x 20 cm
Material: 100% Cotton.
Twin pillow
If you're having twins, you'll have plenty to do. Breastfeeding in particular can be challenging, as twins sometimes need to be breastfed at the same time.
For twins, it's a good idea to use a breastfeeding pillow specially designed for twins. Here we've taken a look at two different kinds of twin nursing pillows.
Twin nursing pillow with optimal comfort
The chic twin nursing pillow from Peanut and Piglet has been recommended by many parents of twins. It provides really good support for both breastfeeding and bottle feeding both twins at once.
It was specially designed by Emma Morrissey, who is a mother of twins herself, so she knew about the problems of breastfeeding. After months of development and testing, she found the perfect shape. The twin nursing pillow has been continuously improved, so you get a tried and tested pillow.
Twin nursing pillow with Foss bottle filling
Fossflake filling is hypoallergenic and contains no down or feathers. It will hold its shape if the pillow is shaken and tapped once in a while. This nursing pillow is extra large, so you can more easily nurse both your twins at once. Because of the delicious fossflake filling, the pillow moulds to your body for optimal support.
The pillow can be washed at 60 degrees.
Cover for twin nursing pillow
A nice cover for the twin nursing pillow. The cover fits the Twin Fossflake Nursing Pillow. It is grey with little bunnies on it, and fits nicely for both boys and girls.

Doomoo nursing pillow - size. M
Very nice Doomoo nursing pads. Doomoo makes some of the most popular nursing pads as they are just really good quality. This pillow is different from others, especially because of the filling, which consists of micro styrofoam balls (EPS). These are super soft, hypoallergenic and mould perfectly to the body. The pillow is designed to lie close to the body, so baby can get right up to the breast. This relieves sore nipples and makes for a better time between mother and baby.

Another Doomoo nursing pillow
Beautiful Doomoo breastfeeding pillow recommended by midwives. This one has a beautiful pattern with great colours. It is brown/beige on the underside, which gives it a different look. The nursing pillow can also be used to support baby when she is lying on her tummy. It can also be placed behind baby when she is practising sitting up.

A handy armpuff for breastfeeding/bottle
A handy little nursing pillow that's easy to carry around. Even though the pillow is not that big, they give super good support to your arm when you are breastfeeding or bottle feeding. The pillow has a recess in the middle to give the best possible support for your baby's head.
You use the cushion by putting your arm through it. The nursing pillow is small enough to carry in your changing bag. It's an inexpensive nursing pillow for only DKK 148.

Lovely support pillow for pregnancy and small breastfeeding pillow
Here's a nursing pillow that's a little smaller than the typical nursing pillow. This makes it more handy to carry around, but it still provides really good support. It's a Doomoo nursing pillow, which is known for making nice, high-quality nursing pillows. It's called a multi-pillow because it can be used for several different things. It one of the cheap breastfeeding pillows with a price of 248 kr.
Which breastfeeding pillow is best? - How to choose
When choosing which breastfeeding pillow is best, there are several things you should consider before buying. Here we've gone through a number of points you can use to help you decide which breastfeeding pillow is best. Here we take a look at the following
Fossflake breastfeeding pillow - the best filling
Nursing pillow cover - color and design
Large nursing pillow - a Doomoo nursing pillow
Twin pillow
Pregnancy pillow
Cheap nursing pillow
Fossflake breastfeeding pillow - the best filling
We recommend you look for nursing pads with the incredibly delicious filling called fossflake. Fossflake nursing pillows provide really good support for your arm when breastfeeding. This is important to sit optimally and not get sore. A newborn breastfeeds many hours a day, and a good, supportive Fossflake nursing pillow is worth its weight in gold. The filling is hypoallergenic and does not collapse over time. A Fossflake breastfeeding pillow just needs a little shaking once in a while and it will hold its shape. Read more about fossflake here.
All Dreams for Kids nursing pillows have the delicious fossflake filling. See them all here.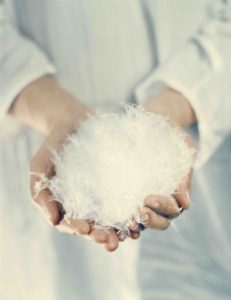 Nursing pillow cover - what should your nursing pillow look like?
Your choice of which nursing pillow is best depends largely on the style you want. There really are many breastfeeding pillow covers, and you can get a breastfeeding pillow with almost any kind of design. Nursing pillow covers come in girls' colours, boys' colours, neutrals and many beautiful patterns. At Mama Milla you can get really beautiful nursing pads that look like no other. They are hand sewn in organic cotton, and have that great fossflake filling. See more about their breastfeeding pillows here.
A cam cam nursing pillow is one of those nursing pillows where you can choose between several different kinds of covers. It can be nice to have two covers if one gets dirty with milk or slurry. Another advantage is that the nursing pillow can have a whole new look with a different nursing pillow cover. You can buy cam cam nursing pads at Dreams for Kids.
Large nursing pillow - Doomoo nursing pillow
If you want a big breastfeeding pillow, consider the delicious Doomoo breastfeeding pillow. It can also be used as a support during pregnancy. During pregnancy, the body is often sore and you need rest, with good support for the whole body and the heavy belly.
The Doomoo nursing pillow is a functional pillow that is perfect to use both during pregnancy and as a nursing pillow after birth. It is not a cheap nursing pillow, but in return you get a really nice product with many uses. Doomoo nursing pillow is made of stretch cotton, and the filling is the unique polyfill that provides a nice comfort. The pillow is super soft and delicious. You can buy Doomoo breastfeeding pillow here for 729,95 kr.
Twin nursing pillow
If you're having twins, it's really important to sit properly. A twin nursing pillow is slightly larger than a normal nursing pillow. When you have double twins, they lie with their legs away from their mother. This way you can breastfeed two children at once. Breastfeeding is hard work, and with twins it may be twice as hard. That's why good support is optimal.
Read much more about what you need for good breastfeeding here.
Peanut and Piglet twin nursing pillow - New!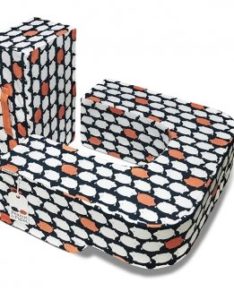 Here we have mentioned the large twin cushion, designed to provide optimal support for both mother and children. The nursing pillow has both backrests and supports on both sides for each twin. This is not a cheap nursing pillow with its price of 1,299 DKK, but it can be a good investment for the first time with your twins.
Sit optimally with your twins
The pillow provides really good support for your back and arms when breastfeeding. The pillow also works really well when bottle feeding.
Pregnancy pillow - 3-in pillow
This smart cushion from Gucca can be adjusted in three different ways. It can be used both as a support pillow during pregnancy and as a breastfeeding pillow for baby. The pillow can provide good support for a heavy tummy when you're pregnant.
The pregnancy pillow can be bought here for 578,95 kr.
Cheap nursing pillow
A cheap nursing pillow is typically available for around DKK 349. It's hard to find a cheaper nursing pillow if you want one from new. You can look for cheap breastfeeding pillows in Mama Milla's outlet. Here you will find breast pads from the 2nd grade, which are therefore sold cheap. Go to Mama Milla here.
Nursing pads on offer you may be lucky to find on Black Friday. See Black Friday deals here.