There is a lot of equipment to buy for the baby's arrival. One of the most basic baby equipment is a baby bathtub, so the little one can have a good and safe bathing experience. There are many different types of baby baths. Some can be placed on a bath stand so that you have a good body position while baby is being bathed. Some can be folded so they can be stored away completely when not in use. Among other things, a baby bath should be made of a firm material so that it doesn't become too unstable when water gets in. At the same time, it should have rounded edges so that baby doesn't have the chance to scratch his body. It can also be an advantage to find a baby bath with a bottom plug, as it will then be much easier to empty again and you also ensure that water does not run out all over the place.
See the best baby bathtubs further down the page
We bring you great inspiration on the best baby bathtubs on the market. We also focus on some of the essential equipment you should buy for bath time with your little one. Read on below to find just the right baby bath and equipment for you and your little one.
Get inspiration for the best baby bath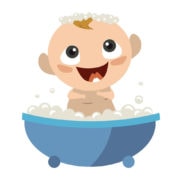 There are many different types of baby baths and you will certainly have your own preferences. You might go for a baby bath that folds up after use and can be stored away. A bath that has legs and therefore provides good stability for baby during the bath. Or you simply don't have the space, so you have to invest in a baby bath for the sink. The possibilities are endless. Below, we've listed some of the best and most popular baby baths on the market, so you can get inspired about which baby bath to choose for when your little one arrives.
                                            Flexi Bath baby bath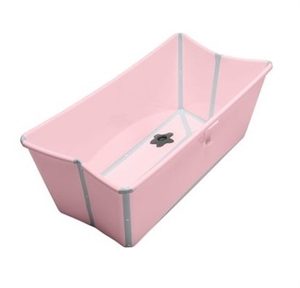 Super smart and easy foldable baby bath. The bathtub is made of hard plastic and can easily be folded and put away. This also means that the bathtub is super easy to take with you on trips or outings. This baby bathtub does not contain phthalates, heavy metals or other harmful substances. When unfolded, the bathtub measures 67 x 39 x 24 cm and can hold 39 litres of water. The baby bathtub from Flexi Bath is available in the colours Pink, Blue, White and transparent with blue edges. It costs DKK 319.95. at the retailer Babytorvet here.
Folding bath from BabyTrold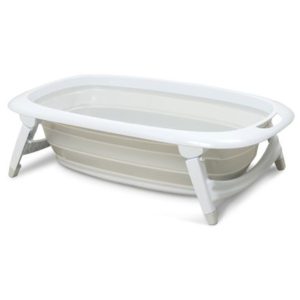 Smart and practical folding bathtub that you can easily fold and put away. You can also hang the baby bath on a hook on the wall or behind the door. This baby bathtub is equipped with a plug that is heat sensitive. This means that the plug will turn colour if the water gets too hot for the baby. The legs of the bath are easy to fold out and have a non-slip rubber coating, so that the bath stands firmly. No chemicals have been used in the production of the bath. When unfolded, the baby bathtub measures 82 x 46 x 23 cm. Super nice baby bathtub that can be used for years to come. BabyTrold folding bathtubs are available in the colours White with grey legs and Black with white legs. You can find the baby bathtub for 399,95 at the retailer Coop right here.
                                           Baby bathtub from BabyDan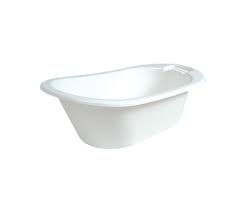 Classic and spacious baby bath that can accommodate baby up to 12 months of age. The bathtub itself has a built-in seat edge and a plug for the bottom to facilitate emptying of the bathtub. The bathtub is free of harmful substances and very hygienic as it is easy to clean. The baby bathtub measures 25 x 40 x 81 cm. and is available in the colour White. For this Babydan bath you can get a bath stand, bath chair, non-slip bath mat and bath thermometer. This baby bathtub from BabyDan costs 189 kr. and can be found together with the mentioned accessories at the retailer Mammashop right here.
Baby bath from Mininoor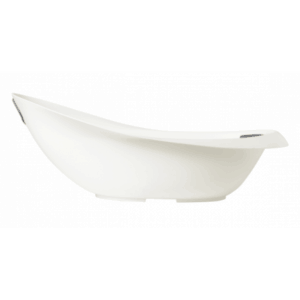 This lovely baby bath is perfect for when your little one needs a bath. As such, it is a classic baby bathtub but designed to fit a baby bath seat. The bathtub has a plug in the bottom so it is easy to empty properly and there are handles for when the bathtub needs to be stored. It can optionally be hung easily on a hook so it can be stored away when not in use. The baby bath is available in White and costs 199,95 kr. at retailer Pixizoo here.
                                                      Flute baby bath from Puj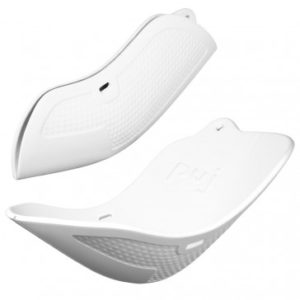 This portable baby bath is great if you don't have room for a baby bath in the bathroom. It's a baby bath that fits most sinks and can be easily folded back up after use or taken on the go. The baby bath is suitable for babies from 0-6 months (up to 7 kg). The bathtub unfolds and is actually just filled with water in the sink. This means you can bathe baby upright without sitting in an uncomfortable position. The baby bathtub dries quickly as it is non-absorbent and BPA and PVC free. Find the smart and portable baby bathtub from Puj for 298 kr. at the retailer BabyGear here.
Baby bathtub from Babymoov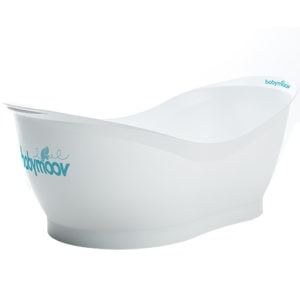 This baby bath has a built-in heater that means the bath can keep the water warm for twice as long as regular bath water. This is super handy for little ones who don't like to get too hot too quickly. The baby bath has no sharp edges and can be used from birth with a baby bath insert. It is also possible to purchase a bath stand, so you can stand upright when bathing your baby. As something very special, this bathtub from Babymoov has won the award as the most innovative baby product in 2015 via Kind + Jugend. Find the smart baby bath from Babymoov for 599 kr. at the retailer Coop here.
Bath time with baby - Equipment that may be needed
When it comes to bathing your little one, some equipment is more necessary than others. In addition to the baby bathtub, we list below the bathing equipment that we think you should invest in. Read more below so you can be well equipped before your little one has their very first bath.
Bath chair for baby bath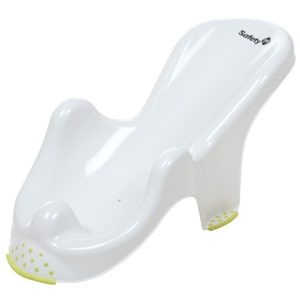 For the first six months or until baby can sit up unaided, a bath seat for the bath is ideal. You can place your baby here so that you have your hands free to wash at the same time. At the same time, the bath chair is safer than having to stand and hold baby in your arms. This clever bath seat can be attached to the bottom of the bath with suction cups, giving baby a stable and natural support. The bath seat is lightweight and it's easy to wash baby all over. The baby seat can be used until baby weighs approximately 8 kg. It is designed in plastic but is BPA free. You can find the smart bath seat for 114 kr. at the retailer BabyGear right here.
                                                         Bath thermometer from Mininor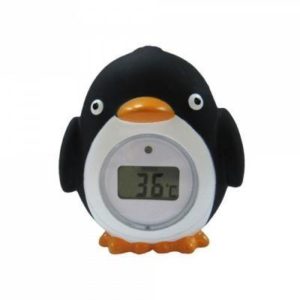 This bath thermometer is both super cute and practical at the same time. It is necessary to equip yourself with a bath thermometer when bathing your little one. Here is a good water temperature of 36-37 degrees. This smart thermometer has an alarm that reacts if the water should get warmer than 39 degrees. At the same time, it can measure the temperature in the room itself and is shown on a smart digital display. The bath thermometer can also be used as a bath toy and is phthalate-free. Find the smart bath thermometer for 99,95 kr. at Pixizoo here.
Bath toys from Playgro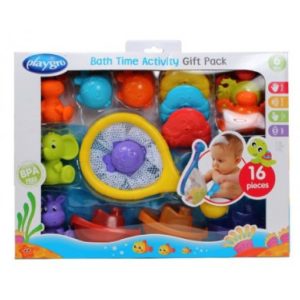 Super nice bath toy for the little ones. This set includes different animals, ships, a net and much more. Here the child can really have fun catching the different things with the net and also learn what the things are called. The set contains a total of 16 pieces. A great gift idea to make bath time extra fun. Find the Playgro bath toy for DKK 229. at the retailer Sundleg here.
                                                          Baby shampoo and conditioner from Milk and Co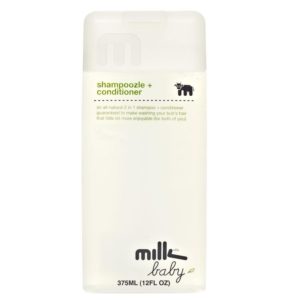 This delicious shampoo and conditioner in one product is super delicious for the little ones. Hair is as smooth as silk, easy to comb out and smells wonderful. The shampoo is lightly foaming but ensures an allergy-free and tear-free experience. The shampoo has a mild strawberry and lavender fragrance, making it great for relieving irritation from eczema, dandruff and scabs. The citric acid it contains helps to remove unwanted and unhealthy chemicals from the water, while leaving a lovely effect on skin and hair. Milk and Co has put together a whole care range for baby which also includes bath soap, sun cream, body cream and some special sprays for the room so baby can get good air for almost during colds. The shampoo contains 375 ml. and can be found for 129,95 kr. at the retailer LirumLarumLeg here.
Bath tub stand from BabyDan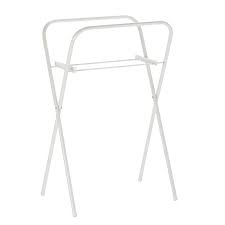 Bath stands are available for many baby baths and can especially facilitate your posture so that you stand correctly when bathing your little one. This bath stand is made of metal and measures 89 cm in height. The stand is super practical as it folds easily when not in use. This bath tub stand fits together with the baby bath tub from BabyDan. The bath tub stand from BabyDan costs 249 kr. and can be found at the retailer Mammashop here.
                                                     Non-slip bath mat from Babydan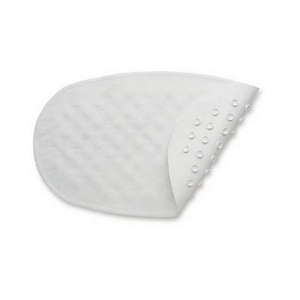 If you find that your child is very unstable after taking the bath chair out of the bath, a non-slip bath mat can help a lot. A bath mat is a great idea so your child can sit steadily on the slippery floor and have the opportunity to play with their bath toys. This bath mat measures 25 x 42 cm and fits a baby bath. This means that you can easily use this bath mat for a baby bath from another manufacturer, as this is the standard size for most baby baths. You can find the bath mat from BabyDan for 49,95 kr. at the retailer Babytorvet right here.
https://startpakke.com/wp-content/uploads/2017/03/logo.jpg
0
0
Maria M
https://startpakke.com/wp-content/uploads/2017/03/logo.jpg
Maria M
2017-10-11 11:10:41
2017-10-11 11:10:41
Baby bathtubs - Best bathtub for baby